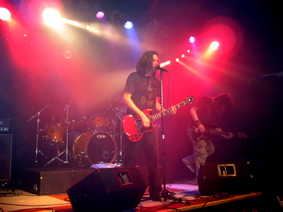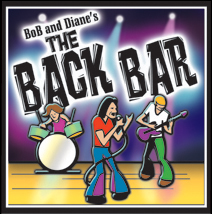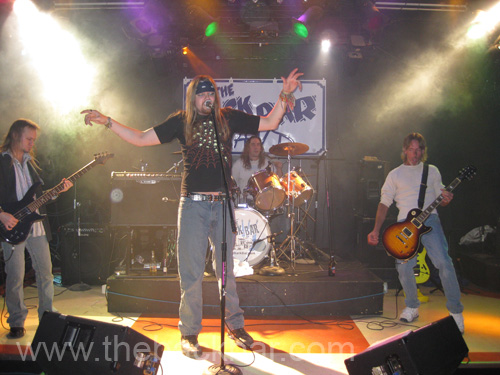 Schedule
Buy Tickets
Directions
Mobile App
FaceBook
Pictures
Car Show
Back of the Yards Softball Complex
Contact




The Back Bar
1901 Beloit Ave (Hwy G)
Janesville, WI 53546

-----------------------------------------------


Hope you are having a good summer.
The Back Bar is on summer vacation till Friday September 14th,
when we open with BOBAFLEX.
Until then enjoy a beverage or food from our outdoor concessions at the Back of the Yards Sports Complex
Tuesday thru Friday & Sunday. Spectators of all ages are welcome 6pm to ll 11pm.

NEXT SHOW DATE:
Friday September 14th
SPECIAL EVENT
Doors 6pm - bands 8:30pm
Advance tickets suggested www.thebackbar.com
BOBAFLEX
REVOLUTION-X
ULTREA
ON MY SIX
AMBERSTEIN
-----------------------------------------------

UPCOMING SPECIAL EVENTS:
(Go to SCHEDULE tab above for full schedule of all dates and all bands)

Friday September 14th - BOBAFLEX
Saturday September 22nd - CHRISTOPHER SHAYNE Country Night
Saturday September 29th - OCTOBER RAGE
Sunday September 30th - MICHAEL GRAVES of the MISFITS
Saturday October 13th - KRASH KARMA & SMOKIN GORILLAS
Sunday October 14th - 9th Annual Charaty Car Show w/THE SMOKIN GORILLAS
Thursday October 25th - THE CONVALESCENCE
Friday October 26th - JANET GARDNER of the VIXENS
Thursday November 11th - EVE TO ADAM & LYDIA CAN'T BREATH

---> Buy Special Event Tickets On-Line Here <---

or in person at Bobbleheads Sports Bar & Grill, 2709 S. Hwy 51, Janesville, WI

Listen for Back Bar Ticket Give-a-ways by Johnny, Greg & Dee during the 94.1 JJO Morning Show!




------------------------------------------

Schedule Buy Tickets Directions Mobile App FaceBook Pictures Car Show BOTY Softball Complex Contact

Hear interviews with guest rock & metal bands on Rockin Metal Revival

Unless otherwise noted, all money received at the door goes directly to the bands to cover their expenses.
Doors and Bar open 7pm (5 pm during Softball Season) - Bands play 9pm to 2:00am Thursday, Friday & Saturday

CLICK ON A PICTURE BELOW TO ACCESS BACK BAR'S LIVE STAGE WEBCAM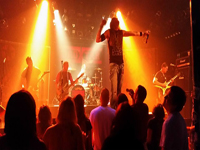 WANTED: Local, Regional & National Original Hard Rock Bands every Thursday, Friday & Saturday. Must not suck.

For over four decades, The Back Bar is well known for booking original local, regional and national acts every Thursday, Friday & Saturday.
FALLING DOVES, JACKSON TAYLOR & THE SINNERS, DASH COOPER of CO-OP, CHRIS BRODERICK of MEGADEATH w/ ACT OF DEFIANCE, HOOKERS & BLOW w/ DIZZY REED of GnR and JOHN KELLY of TYPE O NEGITIVE, DON JAMIESON of That Metal Show, AUSTIN JOHN WINKLER of HINDER, PARADISE KITTY, BLUE FELIX, GEOFF TATE'S OPERATION MINDCRIME, STARKILL, KOFI BAKER, NEVER SAY DIE, VYCES, SEPTEMBER MORNING, ADELITAS WAY, CALEB JOHNSON, DOYLE of THE MISFITS, SHALLOW SIDE, RUMORS, OTEP, THE WORLD OVER, COLD KINGDOM, JOEY JORDINSON of SLIPKNOT & VIMIC, LEFT OF REASON, BREECH, ART OF DYING, ACT OF DEFIANCE, ARTIFAS, KISS ALLSTARS, JACOB MARTIN BAND, ILL NINI, VOODOO TERROR TRIBE, DEVOUR THE DAY, ALVIN TAYLOR, SMILE EMPTY SOUL, THE VEER UNION, TRAPT, SUPER BOB, SOURCE, KIRKO BANGZ, PROZAK, LIKE A STORM, STICHED UP HEART, EMASSARY ECHO, KRASH KARMA, GREEN JELLY, POWERMAN 5000, I PREVAIL, EVE TO ADAM, PRESTON LACY of JACKASS, BRIDGE TO GRACE, DJ UNK, Hed PE, ANOTHER LOST YEAR, CHERRYPOPS, DELLACOMA, SUN PILOTS, I-EXIST, DEAD HORSE TRAUMA, MY GOD THE HEAT, LYNAM, SUSAN AQUILA, FASTER PUSSYCAT, JAKE E. LEE'S RED DRAGON CARTEL, BAM MARGERA of JACKASS W/ CKY, CHUCK MOSLEY, LAYZIE BONE of BONE THUGS N HARMONY, FUTURISTIC, SAVING ABEL, BLACKLIGHT DISTRICT, DIVE, CYANIDE SUNRISE, BRET MICHAELS of POISON, CHIMAIRA, STARDOG CHAMPION, PRIMER 55, BOY HITS CAR, LIL WYTE, FASTBALL, UDO of ACCEPT, HUGO FERREIRA of TANTRIC, JESSE JAMES DUPREE of JACKYL & DIXIE INC, DOPE, THE LAST VEGAS, Bizarrre of D12, KILL DEVIL HILL, TWO DOLLAR GREY, FOXY SHAZAM, WARRANT, I-20 OF DTP, SOULICIT, SALIVA, 12 STONES, GORILLA ZOE, WAYLAND, YOUNG DRO, AK OF DO OR DIE, SKINMASK, SOIL, EYE EMPIRE, COOLIO, GOAST, BONE CRUSHER, FORCE FED CHAOS, ENUFF Z'NUFF, ADEMA, BLACK HEART VACANCY, ALLELE, AMERICAN HEAD CHARGE, UNITY THE BAND, SPINESHANK, HEAR KITTY KITTY, DAISY DE LA HOYA, OH NO FIASCO, QUIET RIOT, TAPROOT, LOSING SCARLET, TEXAS HIPPIE COALITION, CONVOY, BILLY YOUNGBLOOD, PSYCHOSTICK, DORYDRIVE, BEATALLICA, WILLIE BASSE & BLACK SHEEP, FUTURE LEADERS OF THE WORLD, MODERN SUPERSTAR W/ JAMIE FLETCHER OF BRITNEY FOX, MARCY PLAYGROUND, SPONGE, CRUD, FLAW, The Legendary Comedian GALLAGHER, MIDNIGHT TO TWELVE, ECHOVALVE, JOAN RED, BANG TANGO, D'MOLLS, MIKE STONE of QUEENSRECHE, BULLETBOYS, LA GUNS, WILD STREET, SCUM OF THE EARTH, PAPERCUT MASACRE, SUGAR RED DRIVE, ROYAL BLISS, MOBILE DEATH CAMP, NIGEL DUPREE, THE GOOD YEAR PIMPS, GEORGE LYNCH, ANEW REVOLUTION, JIMMY NEWQUEST & CAROLINE'S SPINE, KICKING K8, SNEW, GIRL IN A COMA, STEVEN ADLER'S APPITITE, HARPTALLICA, BOBAFLEX, TRACII GUNS, BLACKLIST UNION, TANTRIC, DAYS OF THE NEW, HURT, TWISTA, BIZZY BONE, SHAWNNA, AK oF DO OR DIE, CASPER/MR C, HEAD EAST, DOKKEN, SURVIVOR, BROWNSVILLE STATION, and many more.

7 DAYS A WEEK PLEASE ENJOY POOL, DARTS, GAMES, TRIVIA, POKER & AWESOME FOOD AT OUR OTHER PLACE:
BOBBLEHEADS BAR, GRILL & BANQUETS, 2709 S. HWY 51, JANESVILLE, WI



<! 999999 is dark grey <! 000000 is black <! ffffff is white <! cccccc is light grey <! ffa500 is orange <! 4a4344 is medium grey <! ff00000 is red

The Back Bar
Historic Venue
1901 Beloit Ave (Hwy G)
Janesville, WI
www.thebackbar.com
608-741-0001 (7pm to 2am Thursday, Friday & Saturday)
Must be 21 to enter